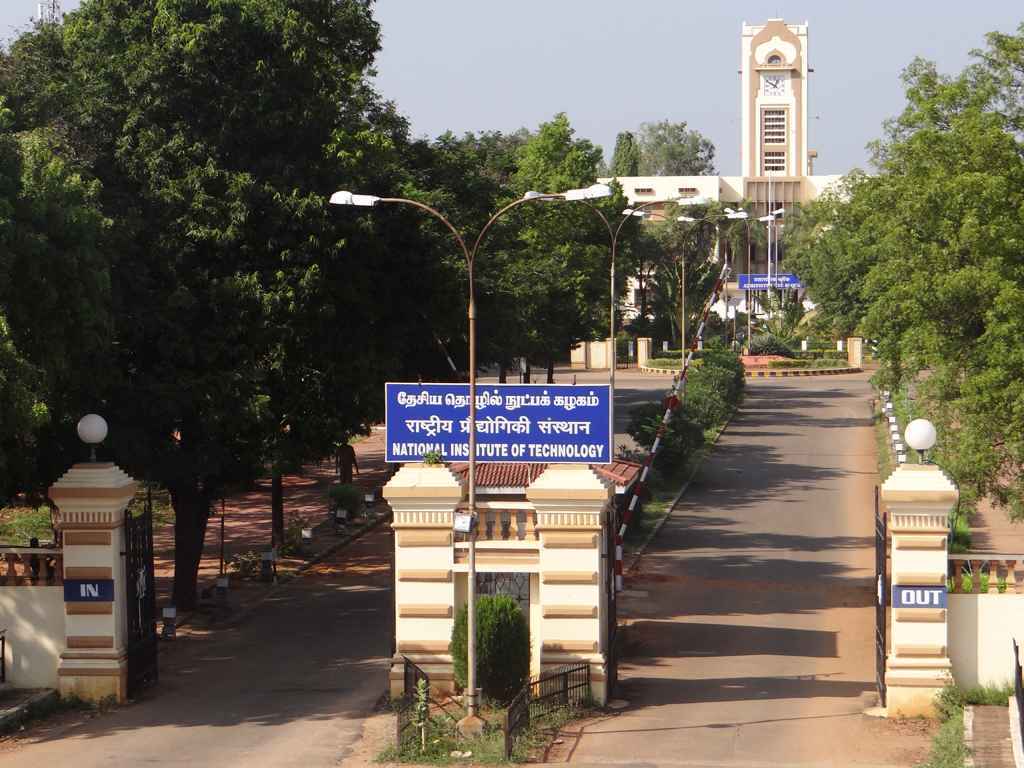 The selected paper will be published in scoupus/ESCIE indexed journals.
IWCMAC 2019

The International Workshop and Conference on Mathematical Analysis and Computation - IWCMAC 2019 is to be organized by the Department of Mathematics, National Institute of Technology, Tiruchirappalli, during 02-06 December 2019 and the aim of the workshop and conference is to provide a platform for academic faculties, researchers, students and professionals from industry to present their research works and to be a stage for exchanging knowledge in the fields of Mathematical Analysis and Computation. The invited speakers for this IWCMAC 2019 are from various prestigious institution in country and abroad.
Important Dates
| | |
| --- | --- |
| Paper Submission Last Date: | November 26, 2019 |
| Last Registration: | November 26, 2019 |
| Spot Registration available | |
| Conference Date: | December 2-6, 2019 |
About Us
NIT Trichy
The National Institute of Technology (formerly known as Regional Engineering College) Trichy, situated in the heart of Tamil Nadu on the banks of river Cauvery, was started as a joint and co­-operative venture of the Government of India and the Government of Tamil nadu in 1964 with a view to catering to the needs of man-power in technology for the country. The college has been conferred with autonomy in financial and administrative matters to achieve rapid development. Because of this rich experience, this institution was granted Deemed University Status with the approval of the UGC / AICTE and Government of India in the year 2003 and renamed as National Institute of Technology. NIT-T was registered under Societies Registration Act XXVII of 1975.
Department of Mathematics
The Department of Mathematics is one of the pioneering department of the institution that offers assistance to many Information Technology and Engineering courses of the Institution. It is committed to the cost of quality education in Mathematics that forms the basis for all the other fields and IT, a field growing in leaps and bounds. It provides a good theoretical foundation through high quality teaching complemented by extensive practical training. It is dedicated to the mission of providing honest, sincere principled and highly skilled professionals trained to adapt to the dynamic requirement of the IT industry. This department comprising 14 faculty members all with doctorate degrees is actively involved in research and in carrying out projects besides teaching . The persistence of the dedicated faculty in preserving the standards is manifest in the successful placement and in the production of Ph.Ds. To keep in touch with trends in growing technology, the faculty members participate regularly in refresher courses and symposium by various universities and research institutions. Presently there are 17 research scholars pursuing research work in various fields. M.Sc courses are also provided.
Publications
1. APPLICATIONS AND APPLIED MATHEMATICS: AN INTERNATIONAL JOURNAL (AAM)
articles are free of cost
aims and scope fulfil by the journal
Publication schedule May 2020
2. Scoupus/ESCIE indexed journals
APC Rs.1500 per printed journal page
3. Mathematics in Engineering Science and Aerospace (MESA)
articles are free of cost
aims and scope fulfil by the journal
Publication schedule December 2019
submission deadline October September 20, 2019
Call for Papers
The Authors are requested to submit their original research papers which may be theoretical , or empirical in nature, which is neither accepted nor under consideration for publication elsewhere in the World.
Topics covered in IWCMAC 2019 (But, are not limited to....)
Topic
Real,Complex,Functional Analysis
Numerical Analaysis
Fuzzy Analysis
Graph Theory
Topology
Computational Models
Fluid Dynamics
Differential Equations
Probability &amp Statistics
Stochastic Process
Operations Research
Mathematical Modeling
Conference
Registration Fee
| | |
| --- | --- |
| Research Scholars | ₹ 2950 |
| Academicians/Faculty | ₹ 3540 |
| Industry Professionals | ₹ 4130 |
Mode of payment through SBI Collect :

Indian participants:
Payment of registration fee through SBI Collect (State Bank of India) [Tamilnadu, Educational Institution, conference And Workshop NIT Trichy] or Demand Draft only.
link: https://www.onlinesbi.com/sbicollect/
to view the instructions to follow the procedure for SBI collect.
Demand Draft in favour of 'THE DIRECTOR, NIT, TRICHY" payable at Trichy.
Bank Account Details for International participants Contacts: iwcmac2019@gmail.com
Venue
A2 and A13 Conference Hall,
Adminstrative Block,
National Institute of Technology,
Tiruchirapalli - 620 015,
Tamil Nadu, India.
Accommodation
Accommodation will be provided in NIT Tiruchirapalli in early bird basis:
| | |
| --- | --- |
| Guest House | ₹ 700/Day |
| Student's Hostel | ₹ 150/Day |
Organizing Commitee
Patron
Dr. Mini Shaji Thomas, The Director, NIT-T
Chairman
Dr. T.N.Janakiraman, Prof., HAG, Dept. of Maths, NIT-T
Convener & Secretary
Dr. V.Shanthi, Asso. Prof., Dept. of Maths, NIT-T
Secretaries
Dr. R. Tamil Selvi, Asso. Prof.,Dept. of Maths
Dr. I. Jeyaraman, Asst. Prof., Dept. of Maths
Dr. N. Prakash, Asst. Prof., Dept. of Maths
Board Members, Dept. of Maths NIT-T
Dr. R. Ponalagusamy, Prof., HAG
Dr. D. Deivamoneyselvam, Prof.
Dr. K. Murugesan, Prof.,HAG
Dr. V. Ravichandran, Prof.
Dr. P. Saikrishnan, Asso. Prof., Head
Dr. V. Lakshmana Gomathi Nayagam, Asso. Prof.
Dr. Jitraj Saha, Asst. Prof.
Dr. Vamsinadh Thota, Asst. Prof.
International Advisory Commitee Members
Dr. Niall Madden, School of Mathematics, NUI, Ireland
Dr. Higinio Ramos, University of Salamanca,Salamanca
Dr. Relja Vulanovic, Kent State University, USA
Dr. Sriram Sridharan, Univ.of Perpignan, France.
Dr. Govindan Rangarajan, llSC, Bangalore
Dr. S. Kesavan, IIT-Madras
Dr. S. Ponnusamy, IIT-Madras
Dr. A . S. Vasudevamurthy, TIFR, India
Dr. R. Balakrishnan, BDU, Trichy, India
Dr. N. Ramanujam, SAC, India
Dr. S. Natesan, IITG, India
Dr. G. Sankara Raju Kosuru, IIT Ropar
Dr. Rajeswari Seshadri,Pondicherry
Dr. V. Vetrivel, IIT Madras
Dr. Santhosh George, NITK, Surathkal
Prof. Ravi Shankar Nanjundiah, Director IITM, Pune
Dr. M Vanninathan, IIT-Bombay
Dr. Janakiraman Subburathnam, CDAC, Pune
Dr. P. Karthikeyan, Sri Vasavi College, Erode, India
Dr. Satyajit Roy, IITM, Chennai
Dr. P. Sam Johnson NITK, Surathkal.
Dr. V.P. Ramesh, CUTN, Tiruvarur
Dr. P.S. Srinivasan, BDU, Trichy, India
Dr. C.Durairajan, BDU, Trichy
Dr. Jugal Mugapatra, NIT- Rourkela, India
Dr. Venkatachalapathy, KRCET, Trichy
Dr. A. Muthusamy, Periyar University, Salem, India
Dr. P. Das, IITP,India
Dr. Senthil Thilak, NIT-Suratkal, India
Dr. M. Bhanumathi,GACW,India
Dr. S. Muthammai,GACW, India
Dr. A. Ramesh Babu, Kalasalingam University, India
Dr. V. Suburayan, SRM- Chennai, India
Dr. T. Prabha, BHC,Trichy
Dr. M. Venkatachalapathy., KRCE, Trichy, India
Dr. M. Chandru, UNIVERSITE BRETAGNE SUD (UBS), FRANCE.
Dr. P.M.Basha, Andrapradesh, INDIA.
Speakers
Registration
Click below for the registration form to participate in the conference,
Submission
Click below to submit your paper for IWCMAC. You will have to register yourself to make a submission.
Contacts
Secretaries
Dr. V. Shanthi
Mobile: +91-9487440341
Dr. R. Tamil Selvi
Mobile : +91-7598176202
Dr. I. Jeyaraman
Mobile : +91-9884164316
Dr.N.Prakash
Mobile : +91-7845688072
Research Scholars
Ms. Aarthika. K.,
Mobile : +91-7868042097
Ms. R. Padma
Mobile : +91-9952580204
Ms. Sangeetha. K.V,
Mobile : +91-9633916335
Ms. T. Divya Devi,
Mobile : +91-8608625858